Termékinformáció
LaserTrack Flare: a sebességmérő pisztolyok elleni legjobb fegyver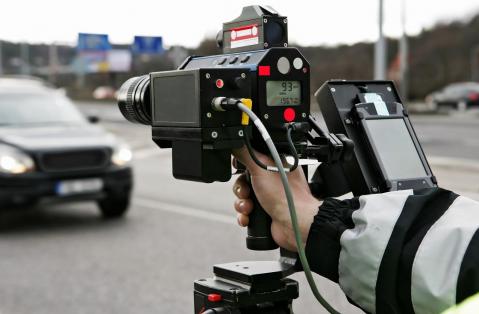 A LaserTrack Flare egy forradalmi, többfunkciós távvezérlő, beépített lézeres traffipax védelemmel. Az eszköz távvezérlőként a világon bárhol legálisan használható, de ha az Ön országában a traffipax védelem nem engedélyezett, akkor a webes fiókja segítségével bármikor kikapcsolhatja azt. Ezáltal elkerülhető mindenfajta félreértés az eszköz használatát illetően.
Csak távvezérlőként használva: világszerte legálisan használható
Távvezérlőként és lézeres traffipax-jelzőként használva: bizonyosodjon meg a helyi jogszabályokról használat előtt
Távvezérlőként és lézeres traffipax elleni védelemként használva: bizonyosodjon meg a helyi jogszabályokról használat előtt *
THE UNIQUE FEATURES OF LASER TRACK FLARE AT A GLANCE:
REMOTE CONTROL WHERE NECESSARY
A fully automatic remote control for all brands of electric gates, garage doors and outdoor lightning.
Up to 50 vehicles have access to each gate or door. All with their own unique security code.
Average range in clear vision situations:> 100 meters.
LASER PROTECTION WHERE ALLOWED
If allowed in your country, LaserTrack Flare can be programmed online to offer full and invisible (stealth) protection against all police laser guns being used in Europe.
APR: THE NEW STANDARD IN STEALTH
With LaserTrack Flare we introduce a novelty of world-class in the field of invisible protection against laser guns: Accurate Pulse Return. Stealth jamming, without jammed code in the laser gun display, most manufacturers already do. With APR we go a whole step further. Modern laser guns now no longer show a deviating sound pattern during measuring attempts of vehicles equipped with LaserTrack Flare.
Stealth as stealth should be!
LEGAL USE AND POSESSION
No legal issues. As a remote control, LaserTrack Flare is fully legal worldwide.
By pressing and holding an individual button on the display, the factory settings will be restored and only the remote control function remains active.
PROGRAMMING AND UPDATING
Fully programmable and updatable on our web interface.
INVISIBLE INSTALLATION, FAST AND EXTREMELY ADVANCED
Fully invisible integration of transponders inside the license plate frame (available from March 2018).
The extremely small and robust transponders each have their own 32bit 180MHz processor for outstanding performance and maximum reliability under the heaviest circumstances.
The advanced lens systems with IR pass filters for the transponders are developed in cooperation with leading optical specialists. The lenses guarantee a maximum amplification of incoming light and a large aperture angle. That in combination with the highest electronic amplification in the industry leads to a new standard in sensitivity.
The minimal display of LaserTrack Flare, again the smallest of its kind by far, ensures timely audible and visual alerts in your car and is designed neutrally, yet stylishly. Optionally the display can be positioned completely out of sight inside an existing space in the dashboard.
SIMPLE AND RELIABLE INSTALLATION BY OUR DEALERS: THE IR CAMERA TESTER
Correct alignment of laser transponders is decisive for their reliable operation. By default, the alignment in the laser industry is done with a spirit level. Experience shows that no guarantee can be derived from this. That is why we have developed the Infrared Camera Tester. This makes the transponder's infrared light image visible on a laptop screen for correct alignment. Both vertically and horizontally. From now on always drive with perfectly aligned transponders: a relaxed feeling.
More information
The LaserTrack Flare transponders make use of a network-protocol and are interconnected. As such they are really easy to install as per transponder group only one cable has to be routed through the vehicles firewall. This saves a significant amount of time and costs.
LIFETIME WARRANTY
The casings of the LaserTrack transponders are manufactured in a thermal automotive casting process for maximum reliability under extreme conditions. As the only laser manufacturer in the world we warrant our transponders for life time on water ingress*.
* Transponders that have been modified or transponders that show heavy physical damage are excluded from this warranty.
Laser comparison
Comparison of the size of different laser systems
| | | |
| --- | --- | --- |
| System 1 | System 2 | LaserTrack Flare |
| | | |
LaserTrack Flare is the most innovative remote control and the most powerful laser-protection ever. In addition, LaserTrack Flare is substantially smaller than any existing systems and can be installed simple, reliable and virtually invisible in every car.